Improving the fire safety of facades
The importance of properly firestopping the largest joint in a building
That narrow gap between your floor slab and façade is bigger than it looks! Take a 100 x 100 ft. building with the usual 3" void: that's a tiny footprint, but it adds up to 100 ft2 of open space for gas, smoke and flames to rise from floor to floor. After numerous fires – which have taken hold via these voids between the fire-rated floor and non-fire rated curtain wall – almost all international building codes now recognize how critical perimeter fire barriers are to the overall building safety plan.
Ambitious designs and strict schedules mean that perimeter fire containment must be quick and easy to install correctly. Acoustic, thermal and movement requirements can't be ignored either. 
With these industry trends in mind, we have developed inventive fire compartmentation solutions that not only protect lives, but can solve other engineering, specification and installation challenges as well. Pre-formed firestop barriers and versatile spray sealants are at the forefront of this new generation.
PRE-FORMED FIRE BARRIERS
Hilti CFS-EOS QS Edge of Slab Quickseal is a completely new way of creating a virtually fire-, smoke- and gas-resistant barrier around the perimeter of your slabs. During the design and tendering phase, it makes accurate bid estimations easier. Once work begins on-site, pre-formed solutions eliminate the tricky and time-consuming aspects of firestopping, such as spray cleaning, depth measuring errors, and waste.
In other words, you can drive productivity, save labor and minimize waste with the peace of mind that the building and its occupants are protected by a high-performance firestop solution.
The ultimate fast cure sealant
CFS-SIL firestop silicone sealant is a fast-curing and highly elastic firestop sealant for curtain wall or edge-of-slab applications. This silicone-based spray is water-resistant, so – at least when it comes to firestop – your productivity is not weather-dependent.
The movement capabilities of CFS-SIL meet leading industry standards, and its water-resistance helps to reduce moisture damage to the joint. After curing, the sealant can easily be painted.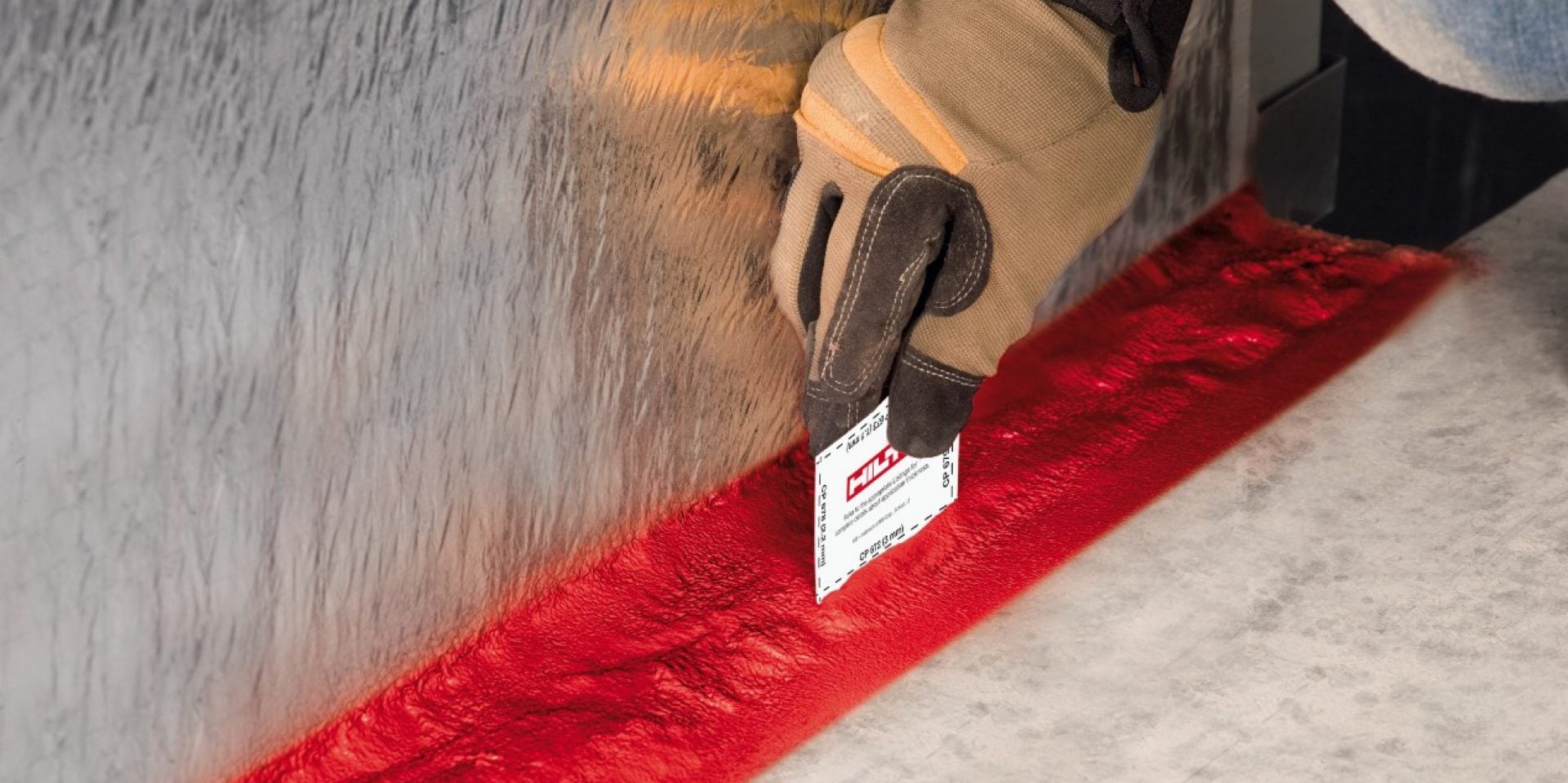 The traditional spray sealant
Our traditional, water-based sealant – CFS-SP WB – is a versatile spray for curtain wall or edge-of-slab applications where exposure to water and the elements is not anticipated during the lifecycle of the building.
As with other Hilti spray sealants, CFS-SP WB has high-performance movement capabilities that meet leading industry test standards and can easily be painted.
Fire protection
All you need to know about controlling damage during a fire