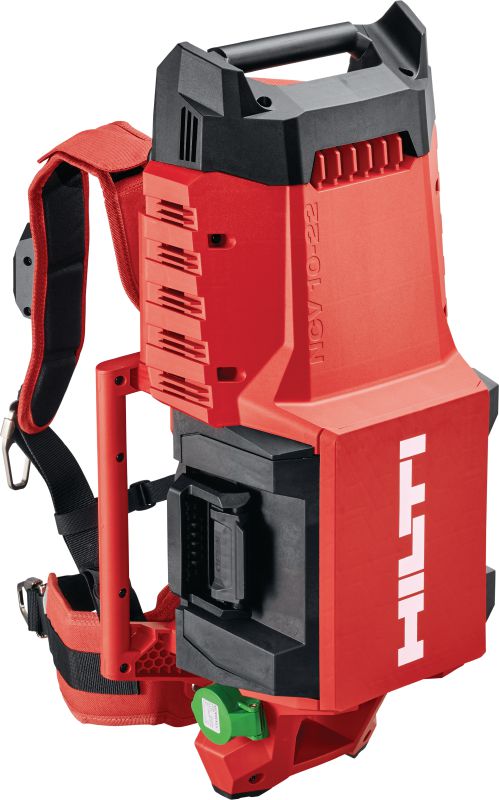 Move cursor over image to zoom.
Click on image to zoom.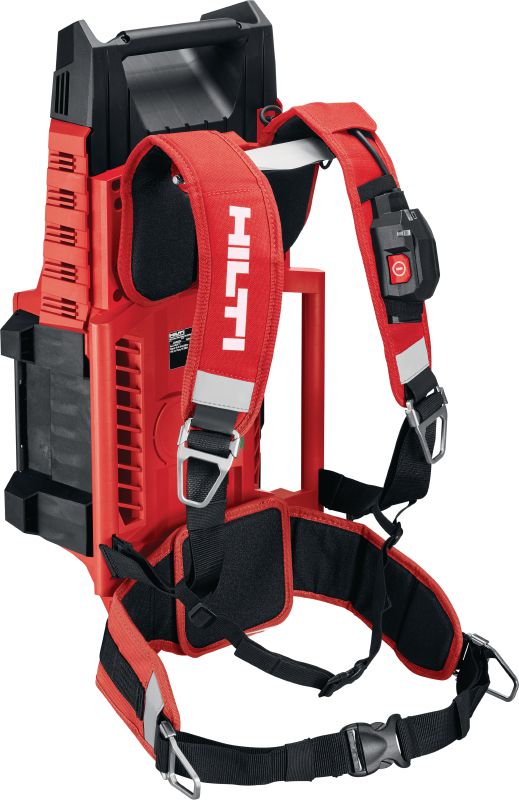 Move cursor over image to zoom.
Click on image to zoom.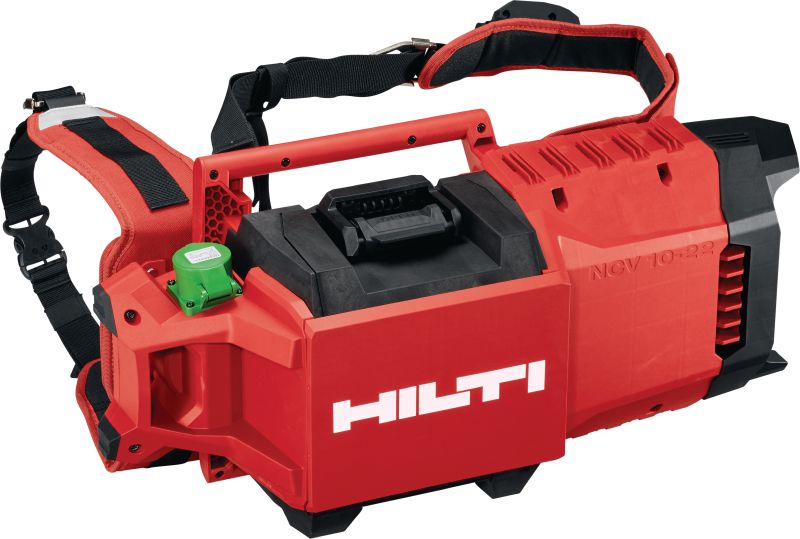 Move cursor over image to zoom.
Click on image to zoom.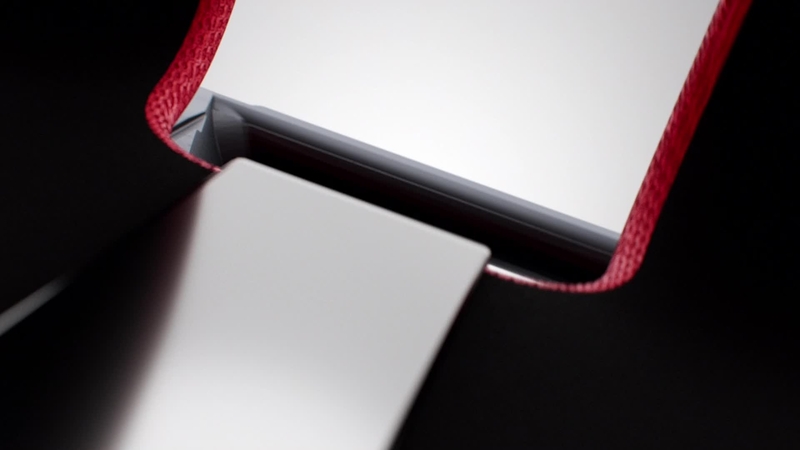 NCV 10-22 Promo (16:9, EN)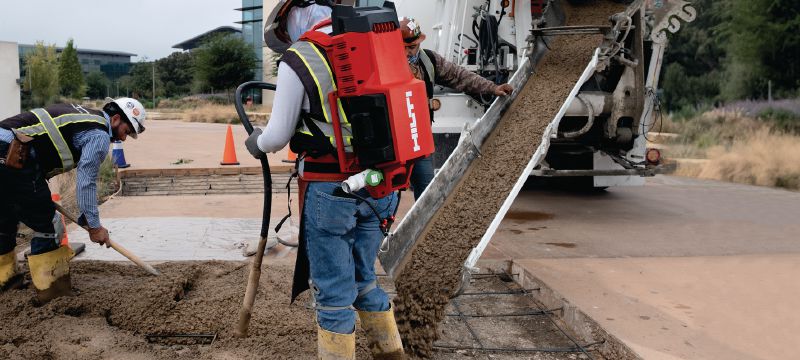 Move cursor over image to zoom.
Click on image to zoom.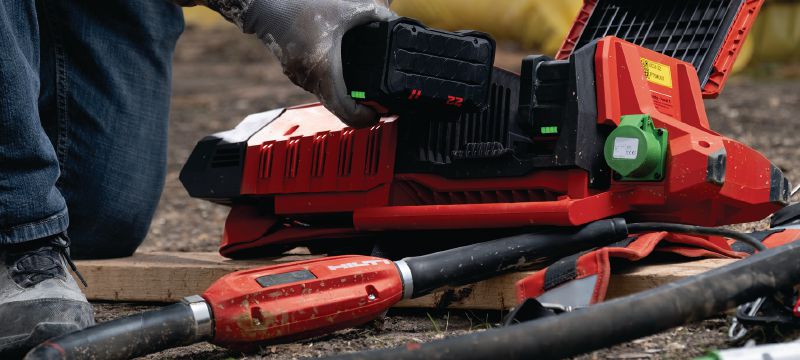 Move cursor over image to zoom.
Click on image to zoom.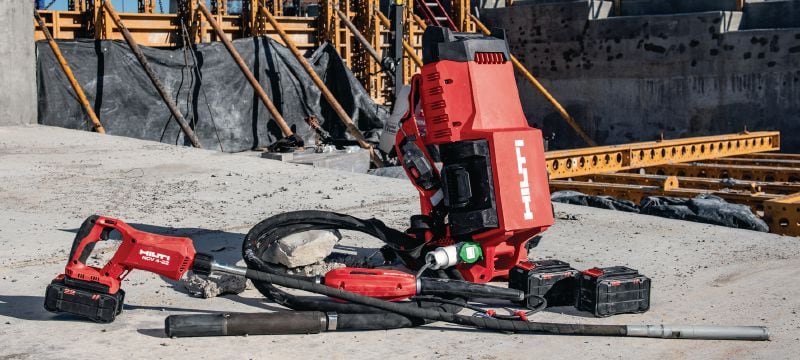 Move cursor over image to zoom.
Click on image to zoom.
NCV 10-22 Backpack concrete vibrator
New product
Item #r17605927
Battery-powered concrete vibrator backpack with brushless motor for compaction of walls, slabs and foundations (Nuron battery platform)
Dimensions (LxWxH): 320 x 218 x 666 mm
Weight: 8.28 kg
IP protection class: IP 67 (NCV 10-22 whips), IP X4 (NCV 10-22)
More technical data
Features & Applications
Features
Safer jobsites – eliminate power cords when compacting concrete by upgrading to a battery-powered concrete vibrator
Consistency and performance – engineered to help you achieve comparable results to a stationary high-frequency internal concrete vibrator
Longer-lasting Nuron batteries – consolidate up to 5 lorry loads of concrete (37.5 m3) on one pair of B 22-170 batteries
Unbeatable mobility – a lower-weight and ergonomic backpack help to minimise both set-up time and interruptions while working
Highly versatile concrete vibrator – choose from 9 different whips (sold separately) to best suit the volume of concrete to be compacted
Applications
Internal concrete compaction for decks and walls to remove trapped air bubbles and increase the density of concrete
Consolidating footings and foundations
Concrete compaction for pre-cast garden elements
Cordless Concrete Poker Tools
Remove air pockets and get stronger concrete without the hassle of cables or petrol
Vibrating concrete is challenging and critical work. Freshly poured concrete contains pockets of trapped air, which if not removed immediately will result in a honeycomb effect in the concrete, reducing its strength and durability and causing surface defects. That's why having a concrete vibrating poker ready to go, when concrete is being poured, is crucial. Our cordless concrete poker tools can help get a quality concrete pour every time without the hassle or downtimes caused by corded or petrol-powered concrete vibration solutions.
What do you get with our concrete vibrating pokers?
Cordless vibration across the construction site
No need to find a power source or stretch extension cords across the construction site – just switch on and go, even on scaffolding. As soon as the concrete is poured, crews can begin vibrating.
Concrete pokers that work together
Using the NCV 4-22 and NCV 10-22 together means crews can tackle small and large volumes of concrete, covering most jobsite needs. The compact designs mean they can be used side by side even in confined spaces. 
One battery platform
All our concrete poker tools are powered by the same high-performing 22V Nuron battery platform that covers all the applications you need on a jobsite, from light- to heavy-duty.
Safer concrete consolidation
Our battery-powered pokers bring an end to the fuel and fumes you get with petrol-powered concrete vibrating tools. Crews also benefit from lower levels of noise pollution.
Vibrate up to 8 trucks of concrete
With one charge of our cordless backpack solution
For compacting bigger concrete volumes such as deck pours, flatwork, pre-cast yards, footings and foundation work, switch to the fume-free NCV 10-22 and tackle up to 60m3 of concrete on one charge from two of our B22-255 batteries – that's nearly eight truckloads!
The NCV 10-22's lightweight, ergonomic backpack solution: 
Cuts out the need for a second person to help carry the poker – useful when working in tight or crowded spaces, as well as reducing manpower expenses
Helps crews access harder to reach areas (such as on a scaffold), or areas where a petrol-powered poker would not be allowed
Can be more safely used indoors thanks to less exposure to fumes, heat and engine noise 
Main on/off switch is easily accessible on the shoulder strap, with a clear indication of battery status – good for planning ahead
The motor in head system means there is less vibration on the hose, helping to improve user comfort and reduce fatigue
Flexible compact pencil vibrators
Concrete pokers for tightly spaced rebar and smaller pours
The compact yet powerful NCV 4-22 pencil concrete vibrating poker is ideal for concrete consolidation in small pours. These include: filling small openings in precast walls or walls with pretension wires, curbs, small footings and patchwork. The narrow 28mm head allows for easier access to hard-to-reach parts of the concrete pour. 
Top five concrete vibrating tips for a smooth safe finish
Choose the right combination for the job
Select the correct concrete poker, whip length and head diameter for your application. You should be able to fit the vibrator rod down between the reinforcement gaps. For smaller volumes of concrete, a compact pencil vibrator may be more efficient.
Always keep the poker vertical
Keep the poker head in an upright position for a more even mix of concrete and aggregates. Horizontal movement can lead to uneven compaction and increase the chances of the poker getting snagged on rebar.
Prevent cold joints
These occur when there is insufficient bonding between an older layer of concrete and the new one. To avoid this, push the tip of the poker at least 15cm into the previous layer of concrete.
Slow and steady
Be sure to place the poker head in the concrete at regular intervals to avoid uneven compaction. When finished, withdraw the poker slowly, no faster than 7cm per second. If bubbles emerge as the concrete vibrator is withdrawn, more vibration is needed.
Don't over-vibrate
Stop vibration as soon as the surface of the concrete develops a lustrous sheen, and air bubbles are eliminated.