Meet the innovations shaping the construction site of the future
Meet the innovations shaping the construction site of the future

At Hilti, we're no strangers to pushing the boundaries on innovation and that's why we're committed to investing in technology to help support and drive the digitalisation of the construction industry. Read on to discover what we're working on and what these innovations mean for you.
Digital transformation is shaping industries and changing the way we work across the board and construction is catching up with implementing new technology.
Did you know that 66% of construction companies adopted new technology solutions during the national lockdown? A further 94% report a direct improvement to how their teams work following the implementation, according to a recent survey. It can be difficult to start rethinking your business processes and operations but there are a number of ways you can begin to incorporate digitalisation into your business. It's not a one-size-fits-all and there are multiple avenues to explore when it comes to implementing new technologies that can help create efficiencies, support and complement your current processes. 
Digitalisation and Covid-19
This year, we have seen Covid-19 affect many industries and the impact it has had on the global construction industry is undeniable. The pandemic has brought with it challenges but is also acting as a catalyst for change. The current climate has shown us there are multiple ways of being more efficient and productive on a jobsite even with all the restrictions. That is the beauty of technology and innovation.

Unscheduled closures of jobsites, supply chain issues, lack of materials, and many projects put on hold have impacted the global construction industry; affecting productivity, workers, and dented cash flow. The Office for National Statistics recording that 46% of construction firms suffered a reduction in their turnover between 27 July and 9 August. The good news is, projects are getting back on track with a renewed focus on productivity throughout the industry. With technology innovations and exciting digital solutions available, there is a positive future ahead. 
Digital innovations at Hilti
BIM (Building Information Modelling) is transforming the way projects are designed and managed, enabling greater collaboration between extended project teams working on different areas and stages of the construction process

BIM helps address issues at earlier stages of the process reducing the risk for oversights further down the line. Interruptions such as the availability of materials or tools can cause unnecessary downtime on construction sites, but BIM helps to manage the necessary planning and foresight to combat this. Structured data helps build a functional overview of projects, making sense of multiple sets of data that when used effectively, creates a 'digital twin' of the site. This single source of reference supports carrying out construction projects most efficiently, in fact, a recent National BIM Report (2019) finds 60% of construction professionals using BIM has seen improved cost efficiencies.
With intelligent forecasting and prediction through BIM software, you can keep track of everything needed to complete projects successfully from end-to-end. From the design phase, through the construction phase and to building operations and maintenance management.
BIM helps you plan, make informed decisions, generate forecasts, and monitor buildings for repairs and maintenance post-construction. Digital, Cloud-based platforms like BIM are proving invaluable when it comes to the increased need to work remotely in the current climate. For projects that involve individuals from multiple locations, the ability to access data from any location, at any time supports safer working and ensures projects are keeping going. Using advanced digital layout tools like the PLT 300, error-prone two-person tasks of laying out points are transformed into a simple, one-person operation that integrates with BIM data.
Hilti are proud to be supporting large-scale BIM projects and you can find out how we can help your business here.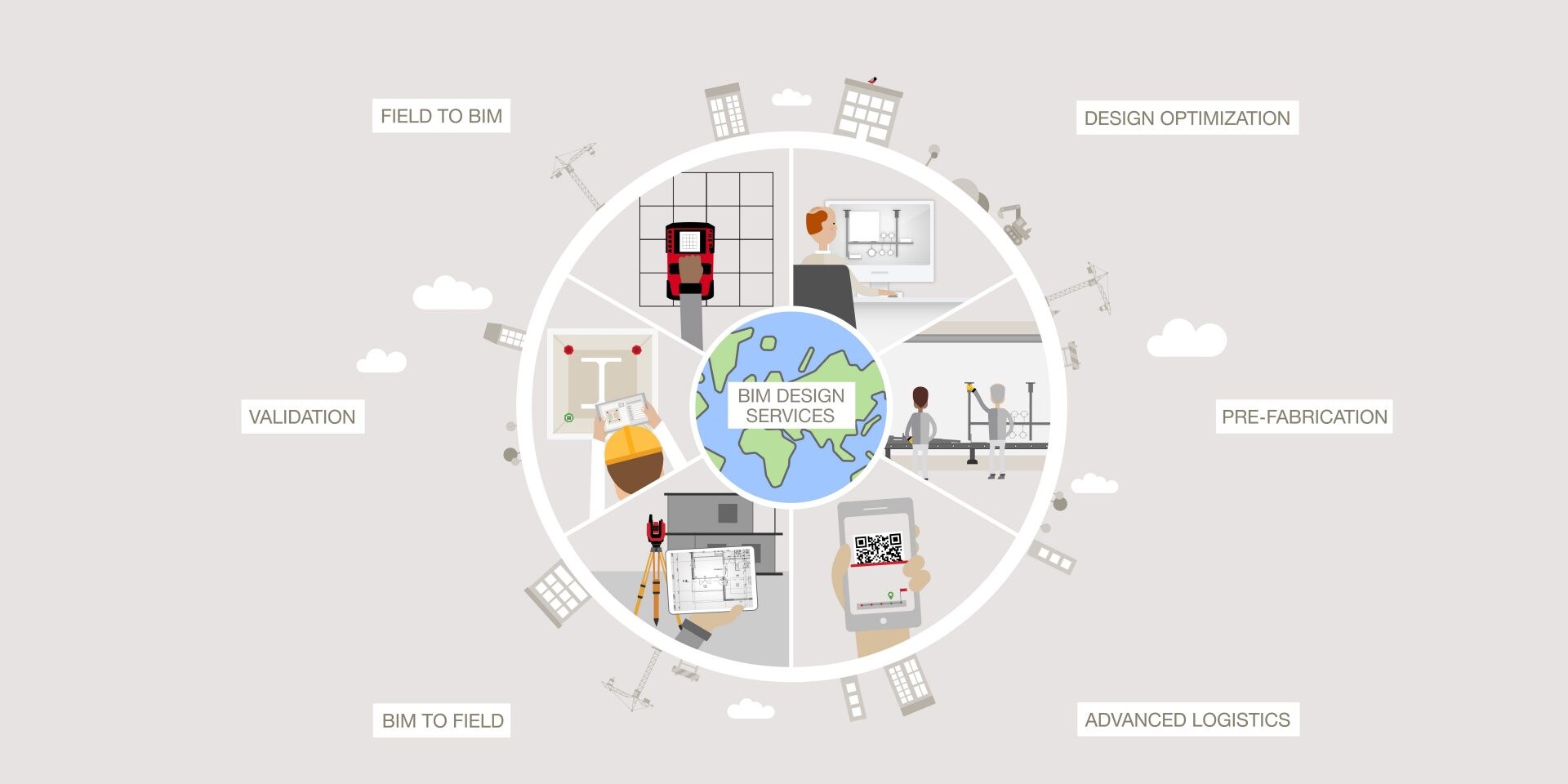 Human Augmentation
The new EXO-01 is a wearable exoskeleton designed for construction workers to support health and safety as well as addressing labour shortage challenges. Hilti are the first construction tool manufacturer to provide an exoskeleton for construction and worked in partnership with medical technology company Ottobock to develop the product. 

With Human Augmentation, we see digitalisation exceed the boundaries of computers and software, playing an integral part in the linking of digital and physical worlds. The topic of digitalisation of the workforce often leads to concerns of replacing people on the job but with human augmentation, that isn't the case. Human Augmentation, and that specifically of exoskeletons for construction reduces the strain felt while working on overhead applications; improving Health and Safety, supporting productivity and diversity of the workforce.
Musculoskeletal disorders are commonplace in construction and with the introduction of Hilti's EXO-01, it's an issue that no longer needs to be considered a by-product of working in this industry. According to statistics from HSE, there were 498,000 workers reported to be suffering from work-related musculoskeletal disorders in 2018/19 with 41% relating to upper limbs and neck. Altogether the HSE reports that 6.9 million working days were lost due to work-related musculoskeletal disorders in 2018/19. The time to act on this, and support workers, is now.
Exoskeletons are an example of how technology can integrate with the human workforce. Using innovative products like the EXO-01 exoskeleton, businesses can reduce the downtime associated with time off due to fatigue and strain, and reduce the costs associated with replacing workers. The exoskeleton helps to attract and retain experienced workers and enable diversity in the construction industry across demographics.
For workers on the job, wearing an exoskeleton reduces the strain related to working on overhead applications.  
ON!Track
The Internet of Things (IoT) plays a key part in the digitisation of the construction industry. IoT works by capturing data through sensors on tools and equipment, feeding into software, helping run and manage business processes. Technology solutions required for implementing IoT are available at a size and cost that makes them a viable product for many construction businesses.

The future of IoT in construction is positive and more construction companies are seeing the benefits of connected, smart, and streamlined sites. A Market Study Report reveals that the global IoT in construction market is set to grow at a rate of over 16.5% between 2020-2027. This is growing from the current approximate valuation of the IoT in construction industry at £6.03 billion ($7.8 billion) in 2019.

At Hilti, our ON!Track tool tracking software lets you keep track of what tools and equipment you have, where they are and who is using them. It also supports tool maintenance with alerts when tools need calibrating or replacing. Through Bluetooth powered smart tags, you can carry out fast inventory checks or locate nearby equipment. ON!Track further supports with compliance and reminds users ahead of time when training or certifications are due to be updated or renewed.
A new iteration of ON!Track is launching in January with ON!Track 3.0. This new generation of ON!Track is an even more sophisticated platform, introducing new features to improve tool park productivity and efficiency.
Proactive tracking: Bringing automation to the jobsite with smart inventory checks, theft control measures and unexpected asset removal alerts with gateway scans in the background.
Asset costing: Basic asset costing so you can efficiently control expenditure and manage project costs.
Quantity items: A new quantity items module to help keep track and manage consumables and commodities.
There are many ways to implement digital into current processes, it's not a one size fits all: different companies will require different solutions. Luckily, there are a number of products, tools and software available to support all areas of digitalisation. The innovations emerging onto the market today are shaping the construction industry of tomorrow. 
At Hilti our expert teams continuously innovate with new products and software iterations being launched regularly to support the 'digital revolution' in construction.