3 ways to make working at height safer

According to a report by the UK's Health & Safety Executive (HSE) in 2019/20, almost half of all construction accidents that year were from falls at height. The Building Safety Group has also reported an increase of 84% in the number of working at height breaches occurring on construction sites during the first quarter of 2021. These are worrying statistics, especially considering the Work at Height Regulations 2005 require all employers to take the proper precautions to prevent death and injury due to falls.
At Hilti, our customers are always telling us how important it is for them to feel safe when working at height. Whilst this type of work is largely unavoidable for most trades (particularly for customers involved in external cladding, curtain wall and roofing applications, or those in energy related trades such as utilities, power and offshore), there are measures employers can take to reduce these risks and increase overall safety.
Here's 3 ways you can help make working at height safer:
1. Cordless tools
With many companies insisting on the use of cordless tools, it's no surprise that cordless has become the king of the jobsite. Not only are they lighter than regular tools, but the absence of a cord means they're perfect for working at height and avoiding potentially dangerous tangles. There's no need to carry a portable power supply or generator either, especially up stairs or on a platform outside of a building. Our 12V tools are ideal for light duty applications in tight spaces, whilst our most comprehensive platform of 22V tools cover applications for all trades.
Whether you're installing pipe rings for a plumbing system with a SF 2 12V drill, driving screws into drywall with a SD 5000 22V screwdriver, or even drilling into concrete with our powerful TE 4-A22 cordless rotary hammer, our cordless tools are compact and light enough to make working at height an easier and safer experience.
2. Tool tethers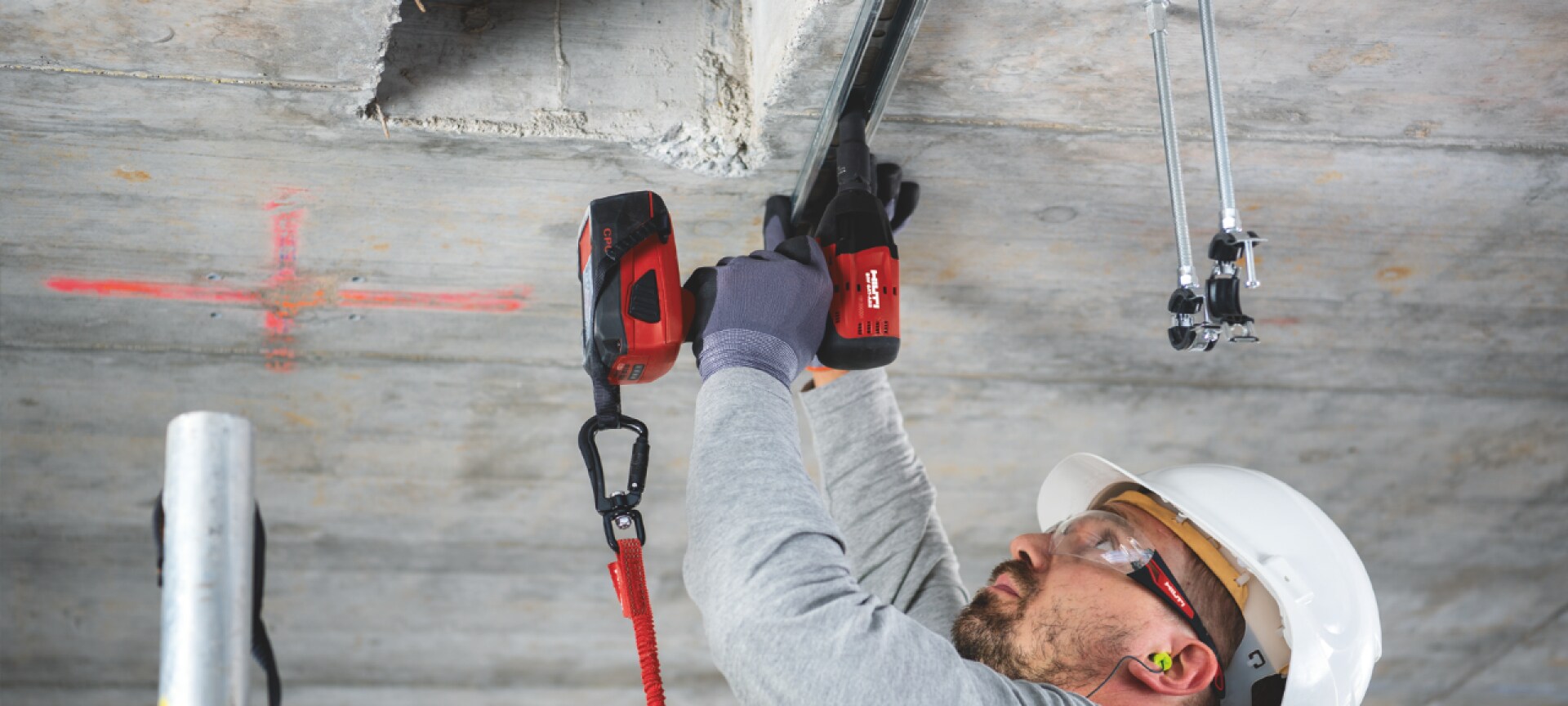 If you've ever worried about dropping your tool when working at height, a tool tether is a great solution to put your mind at ease. The shock-absorbing bungee-style tether catches your cordless tool if you drop it, reducing damage and preventing workers from reaching to catch the tool – which could cause injury. The self-locking carabiner also makes it easier to operate with one hand, and is designed to prevent accidental opening.
If your tool weighs 6.8kg or less and has an open handle, the Hilti medium duty tether works perfectly when combined with the separate retaining strap. For larger, closed handle tools up to 11.4kg in weight, opt for the heavy-duty tether instead. Both are ANSI compliant too, which means they've been tested according to advanced standards on tool drop prevention. They've also been tested with our very own Hilti tools, giving you ultimate peace of mind!
3. Direct fastening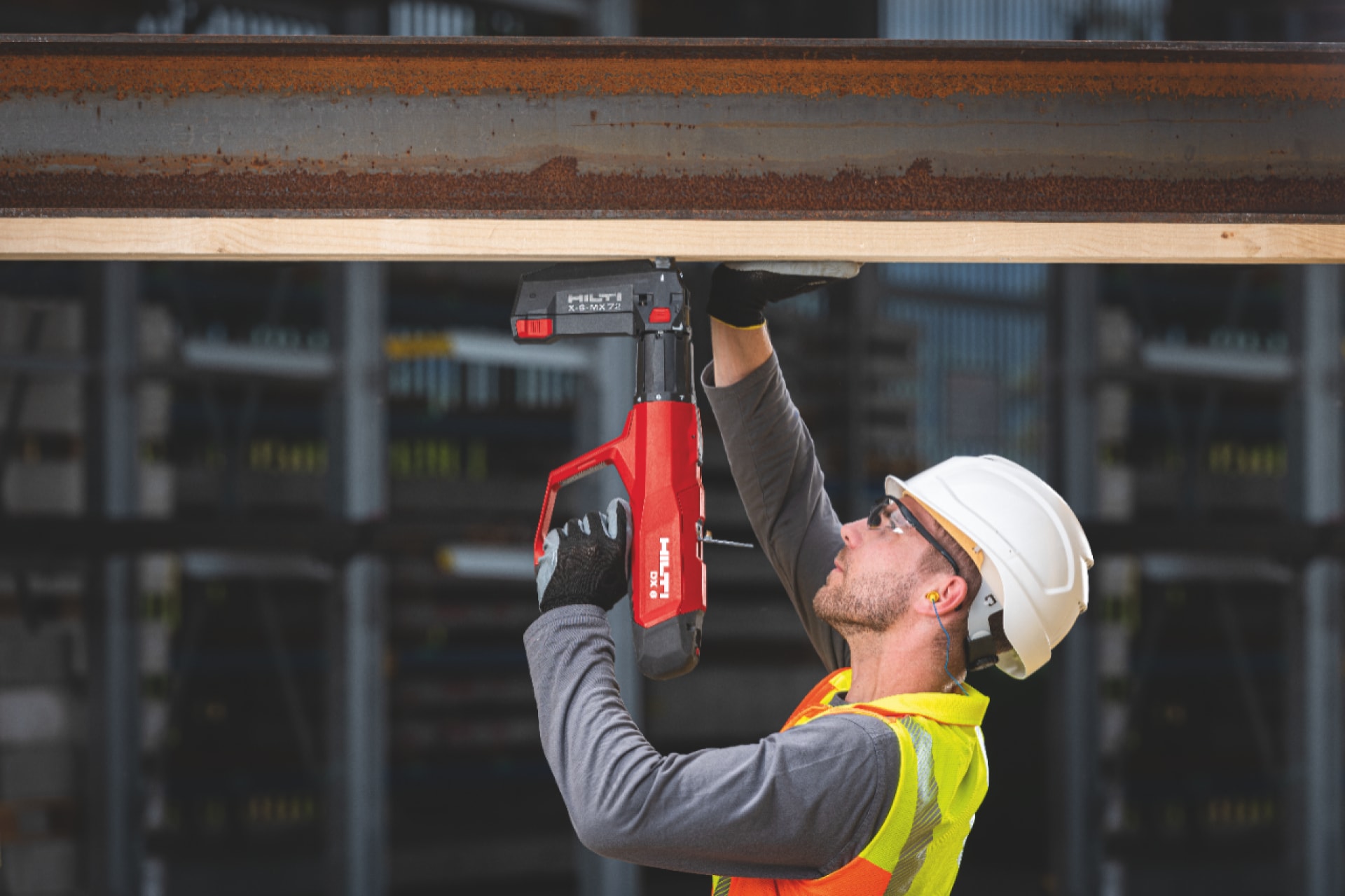 Another way to increase safety when working at height is to minimise the complexity of the task in the first place. Direct fastening, for example, is a great alternative to traditional drilling and fixing methods, which typically require more tools and moving parts. By swapping a rotary hammer, drill bits, a vacuum and resin for the Hilti DX 6 battery-operated nailer, you're not only giving yourself less tools to carry, but you'll be reducing the amount of time you need to spend working at height. Our direct fasteners, which easily fasten various materials to concrete or steel, can also be used with a tool tether – making the process even safer.