Seismic Design Systems
How non-structural systems ensure life safety in buildings
We provide independently approved solutions that have been tested to withstand movement during seismic events. These solutions include modular support systems, passive fire protection products and anchor fastenings. With this we commit to our ultimate purpose of saving lives, protecting assets and improving building performance.
Non-structural systems matter
The greates repair costs after an earthquake
The impacts of an earthquake can be classified in three aspects: human fatalities, interrupted building operations and material damage. All this will inevitably result in economic losses.


Earthquakes are major loss triggers. Not only can they damage the structural elements of buildings but most probably also severely impair non-structural systems such as mechanical or electrical systems / piping and cable installations. These systems are critical to ensure life safety in a building. In recent years, regulations applicable to non-structural systems are increasingly demanding compliance with stringent requirements. 

In the past, earthquake engineering focused on designing structural elements to prevent buildings collapsing. However, this has changed. Experience has demonstrated that non-structural systems in buildings are just as relevant. Non-structural systems in buildings are critical to ensure the continuing operations of essential services such as water and electricity supply (pipes and cables), emergency services (alarm systems), passive fire protection (compartments) and active fire protection (sprinklers).
Research shows that the investment in non-structural components is far greater than that of structural components and ranges from 50-70% of the total cost of a building (see table below). In many past earthquakes, losses resulting from damage to non-structural components have exceeded losses due to structural damage.
Repair costs resulting from a seismic event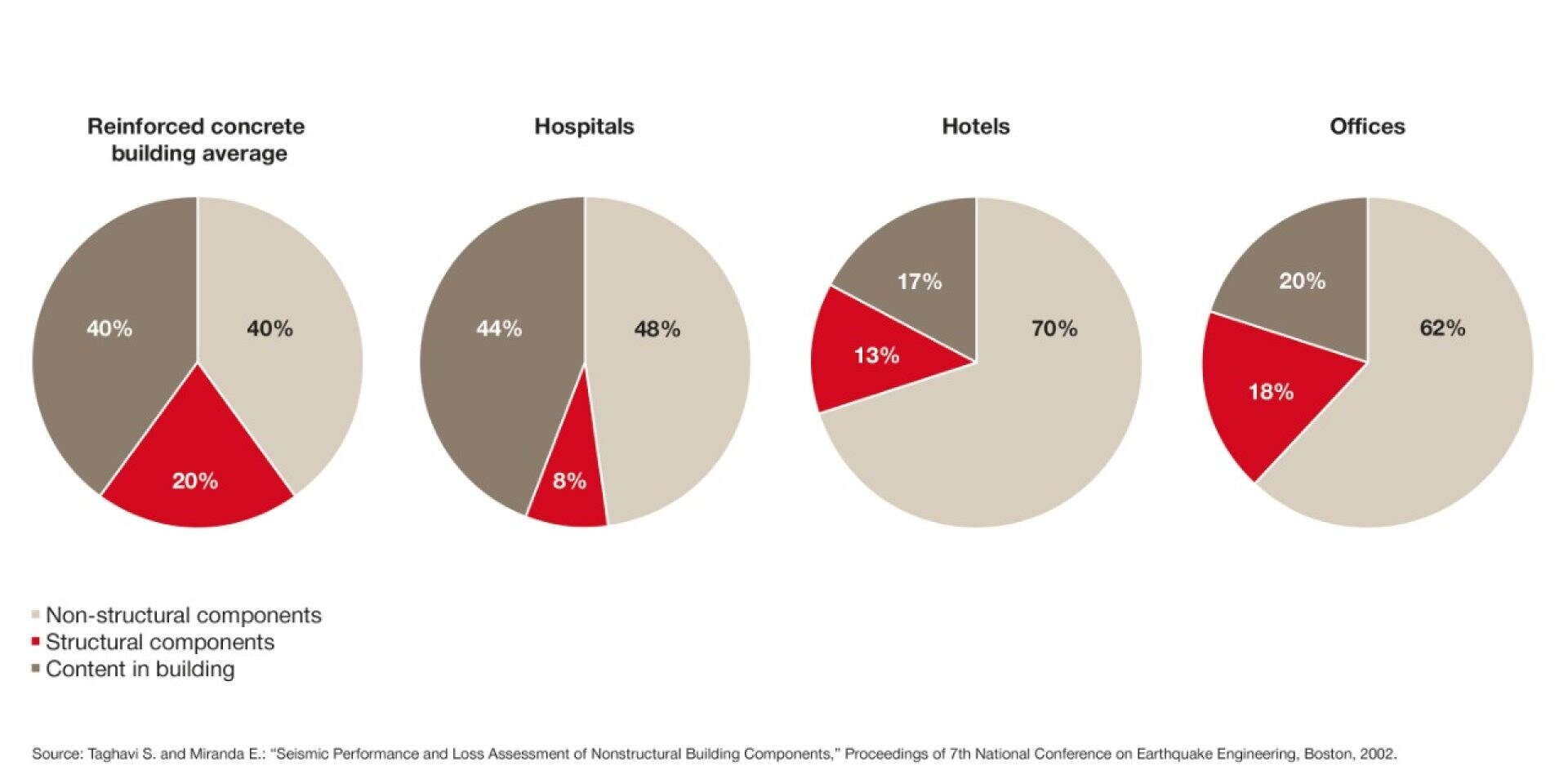 Earthquakes compromise life safety in buildings even when structures remain undamaged. Pipes and cables move with extreme force during seismic events, causing breaks as well as damage to fire compartments. This leads to leakage of flammable gas and spillage of flammable liquids that historically, have been followed by fires and explosions. 
In the event of fire, detection systems play an important role. When cables are damaged, these systems will not work correctly. On top of this, seismic forces may impair water supplies and sprinkler systems that help ensure fire protection in buildings.
Seismic events undoubtedly reduce the level of protection provided by buildings. With appropriate fastenings, installation supports and passive fire protection systems, buildings are equipped to perform in these challenging situations and can help ensure the life safety of their occupants. 
Under constant development
The construction industry is regulated through building regulations that are constantly developed and updated by authorities to ensure minimum standards in different aspects such as usability or safety. 
The goals of these regulations are:

To prevent damage to structural and non-structural elements of buildings in low-intensity earthquakes;
To limit the damage to structural and non-structural elements to repairable levels in medium-intensity earthquakes and
To avoid the general or partial collapse of buildings in high-intensity earthquakes
However, the safety requirements in building regulations vary depending on the building type. In general, public buildings including essential facilities such as hospitals are under greater scrutiny and are required to meet more stringent requirements. These buildings must remain operational after an earthquake.
Based on the level of importance, building types can generally be divided into the following categories, category 1 being the most critical:

Category 1
Buildings required to be utilized after the earthquake and buildings containing hazardous materials. For example, hospitals, airports, fire stations or power generation plants.
Category 2
Intensively occupied buildings (long-term) and buildings preserving valuable goods. For example, schools, museums, universities, military centers or prisons. 
Category 3
Intensively occupied buildings (short-term). For example, sports centers, cinemas, theatres, shopping centers or concert halls.
Category 4
Other buildings such as residential properties, hotels, offices or industrial structures.
Performance of non-structural systems
Tested and verified in accordance with the latest standards.
With the development of more stringent requirements for non-structural systems in building regulations, manufacturers must now offer systems tested in accordance with standards recognized worldwide, such as EN or ASTM. 
Hilti offers seismic-qualified products and systems providing ultimate performance in non-structural applications. These systems have undergone official tests witnessed by third-party organizations. 
However, we want to drive life safety further.
Hilti has conducted extensive research in cooperation with academic partners such as the University San Diego, California (UCSD). We carried out a full-scale test in a five-story building where three earthquakes followed by a fire were simulated to analyze the behavior of various non-structural elements such as anchor fastenings, passive fire protection and modular support systems.
Furthermore, Hilti is currently working on a project together with EUCENTRE and the University of Pavia (Italy) with the aim of analyzing and understanding the seismic response of non-structural elements and systems using analytical, numerical and experimental activities. 
On top of this, we actively participate in numerous conferences such as the yearly Seismic Academy in Italy that brings together experts from all over the world to discuss various aspects of seismic design in buildings.